The 2nd and 4th of February it will be developed in the Tecnológico of Costa Rica the seminary Training for trainers about European Union and gender, directed to the university staff.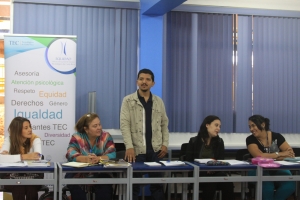 The aim of the Instituto Tecnológico de Costa Rica (TEC) is to enable a group of professionals for the construction of an inclusive society in the different university areas: academic (teaching, research and extension), academic counseling, student counseling, administrative services and the TEC strategically communication.
They will take part in the seminary:
Teaching staff from the TEC, to reproduce the contents of their lectures, as well as to give the seminary in the studying plan of Business Administration degree and other external sectors.
Personal of the Digital TEC department, who administrates the digital platform of the university.
Communication staff, for the project disclosure and awareness to its integration in the communication strategy of the TEC.
University planning staff, to promote its inclusion in the plan for a long-term.
Academic development staff, that advice the formulation and revision of the personal auditory curriculum, who counsel the University in the compromises that has to fulfil.
The seminary has been certified by the Center of Academic Development and organized by Ximena Araneda, from the Business Administration School, and Suiyen Ramirez and Ana Rosa Ruiz, from the Gender Equity Office.