La Comisión Europea distingue G-NET como «historia de éxito» y «buenas prácticas»
El proyecto Equality training network: EU contributions to gender mainstreaming and citizenship ha sido distinguido por la Dirección General de Educación, Juventud, Deporte y Cultura de la Comisión Europea como "historia de éxito". Se trata de una distinción que esta dirección general otorga a los proyectos que han destacado por su impacto, su contribución en la elaboración de políticas públicas y sus resultados innovadores o creativos que pueden ser utilizados por otras instituciones.

Consulte la plataforma de resultados de proyectos europeos Erasmus +
Premio al Impacto Social de la Investigación
El Consejo Social de la Universitat Rovira i Virgili reconoce los proyectos de los investigadores e investigadoras de la URV que tienen un mayor impacto sobre la sociedad.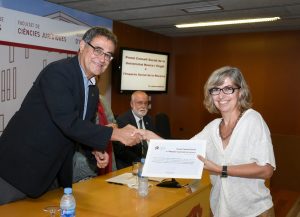 El proyecto "European Union contributions to gender mainstreaming and citizenship", liderado por Inma Pastor, del grup de investigación Social & Business Research Laboratory (SBRLab), fue premiado en la modalidad ex post (que ya ha tenido un impacto sobre la sociedad).  Partiendo de la investigación en estudios de género e integración europea, el proyecto desarrolló materiales docentes sobre políticas de genero y Unión Europea para diversos niveles educativos, y ha formado presencial y virtualmente a más de 5.200 persones entre personal docente e investigador, estudiantes universitarios, alumnos de secundaria, y personal técnico y político de las administraciones con el objetivo de contribuir a implantar la igualdad efectiva en sus organizaciones.